COMPLETE 304 STAINLESS STEEL V12 XJS EXHAUST SYSTEM UPTO (V) 188104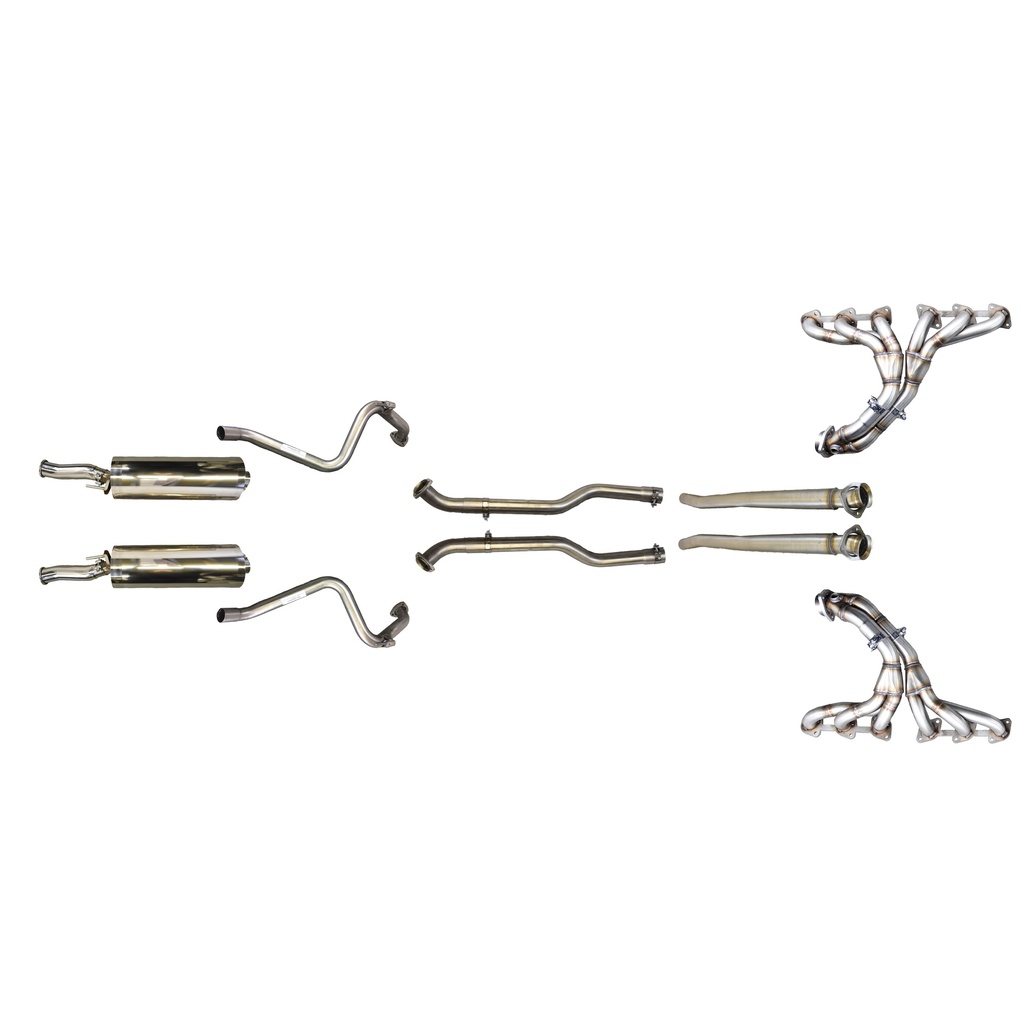 COMPLETE 304 STAINLESS STEEL V12 XJS EXHAUST SYSTEM UPTO (V) 188104
TUBULAR MANIFOLDS, CENTRE BOX DELETE, BIG BORE OVER AXLE, SINGLE TIP
Brand

:

Simply Performance
Condition

:

New
Type of Part

:

Genuine/ OEM

,

Performance
Model of Jaguar

:

XJS pre facelift 1975-1991

,

XJS facelift 1991-1996
Compatibility

:

XJS upto (V) 188104

,

XJS V12 5.3 + 6.0
Made in

:

England
Material

:

Stainless Steel
Features

:

Tubular manifold

,

Centre box replacement pipes
This is a full stainless system for all XJS V12's upto 188104 chassis number (around 1993) after this the rear box changed. This is our full tubular manifold system with centre boxes delete pipes. This is a very loud free flowing system. For cars pre 1979 you will need to change the over axle exhaust hangers. 
The tubular manifolds fit both LHD and RHD cars. They work well with the rest of the system. They are increasing the surface area of the exhaust and will increase engine temperatures. We strongly advise ceramic coating or heat wrap to reduce these temperatures. 
The exhausts we produce are hand made here in the UK in 304 grade material. Our system is made to the patterns of the OE non catalyst system so you can take all of our parts and they can be fitted within an original system non-cat. The system is a free flowing system. All the joints and bends are made to be the least restrictive as possible. They use standard Jaguar fittings and as you are buying the whole system it comes with all the joints and bolts as a kit. This is our loudest system we supply. It has the least restrictions possible. If you still want tubular manifolds but slightly quieter we have a boxed version of this system listed under part number:  FS-XJSTUBCBBB. If you are looking for our range of systems with standard downpipes please see: FS-XJSREPSTD and  FS-XJSCBSTD
The rear boxes are a light performance version along with an original style tip that is made as an oversize style 2 1/4" OD which give the car a nice deep tone on idle, upon acceleration you get a rasp from the V12. The system does sound different to our other stainless steel systems. It will be a lot deeper and raspier when revving, you may have seen this sytem on Harrys XJC from Harrys Garage. 
This system is supplied with over oversized big bore over axles pipes. Our system is generally all OE sized but the standard Jaguar 1 3/4" is very small in diameter. This system is supplied with 2" over axles, still with the same joint sizes but 1/4" larger diameter to standard. If you want this system with standard over axles please ask.

As we did not get cats until 1992 here in the UK this system is based on a non cat system. The collector on the tubular manifold already has a pre-welded lambda boss for a lambda sensor. Its supplied bunged as standard so it will be plugged but if you plan to run an aftermarket ECU then this can be useful. If you are planning to use this system on a car with catalysts you can run your original lambda sensors in here. Please remember, this system is a de-cat, you will have to check your local law whether that is OK or not. 
To fit this system on a pre 1979 car you will need to change the hanger style in your rear axle cage. The hangers changed to a U clamp rather then round type mount. The part number for the U clamp and bush required is  NJA6804BA & EBC4499 which we can supply for no extra charge. You will need to also drill your cage to mount these in the correct location.

We offer a complete kit which also includes the fitting kit but all parts can be bought individually and are listed on this website under their part numbers.
This system has part numbers:
Downpipes CAC1975 & CAC1974
Intermediate pipes CAC1402 & CAC1403
Centre boxes CAC1660 & CAC1661
Over axles CAC5620 & CAC5621
Rear boxes CAC2494
Tips CAC6068 & CAC6069

We are a family business focusing on Jaguar parts, and have been around since 1984. Being Jaguar enthusiasts ourselves, we know how important and difficult it can be to source the right parts to keep your car looking its best. We specialise in new and second hand Jaguar car parts for Jaguars from 1960 to 2002. This covers the full range of XJ6, XJ12, going into the XJS, XJ40, X300, X308 and XK8 / XKR. Additionally, we offer a wide range of performance parts to upgrade your Jaguar. We are always looking to add more parts to our offering. If you can't find what you are looking for, please get in touch to find out if we could help.

Please note that the products on our webshop are currently only our premium performance parts. Our second hand and used Jaguar car parts can be found on our eBay shop. Feel free to contact us directly for any product queries.