History

Simply Performance has been supplying V12 5 speed manual conversion kits for over 20 years. The design originated from an early Lister conversion. We are well-known for our conversion where we convert the V12 XJS or XJ12 from a Borg Warner 12 or GM400 or GM4L80E to a Jaguar Getrag 5 speed gearbox. Over the last 20 years we have sold over 300 of these conversions and been featured in many magazines.
Our original kit has been hugely successful, however, due to the availability of Jaguar Getrag 265 and 290 gearboxes we have transitioned into our new Tremec TKX gearbox conversion. We are still offering our Getrag conversion but we are not able to commit to supplying the gearbox.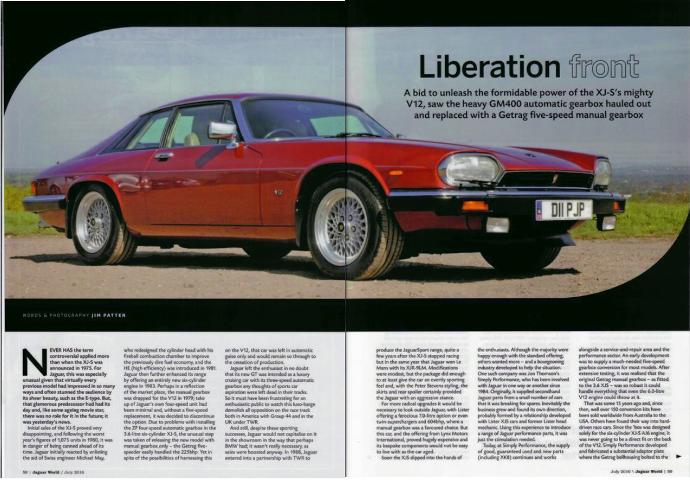 Getrag manual conversion
Similar to an early Lister conversion we use a conversion ring/ adaptor plate to convert the V12 Jaguar engine to the Getrag bolt pattern. We have 2 rings to either suit the GM400/ Borg warner bolt pattern or the 4L80E 4 speed block pattern. This allows you to use either the Getrag 265 with a split bellhousing or the later 1 piece Getrag 290. Although this can work with BMW 265 gearboxes our conversion is designed to work with the Jaguar gearbox. These are a great gearbox, they are really strong and can handle the power of the V12 very well.
We use our own flywheel, this is a button flywheel. Unlike a conventional flywheel it does not have any ring gear as it works in conjunction with your existing automatic flex plate. The flywheel is relatively light but works well with the V12 engine. We use the 240mm style clutch which is 9.5" which allows you to use the standard clutch release mechanism and hardware. We offer a UK made organic clutch which is very light and works well for standard applications. For cars with power higher than 500Nm torque we supply a paddle centre. These are not normal paddles, we use a 6 pad with a sprung hub. This allows you to have a very light, smooth and responsive clutch with something that will take upto 700Nm or torque. Depending on your application we can tailor the clutch for your needs.
A full conversion would come with a manual pedal box, all pipe work, clutch master and slave cylinders along with propshaft, tunnel cover, ski slope and a gearbox mount adapter. The conversion kit will give you the majority of the parts you will need. There are variations across the Jaguar range and it is advised you get in touch with us to discuss your requirements. Please note we do not have any getrag gearboxes in stock, you will need to source your own Jaguar gearbox and we can help with the rest.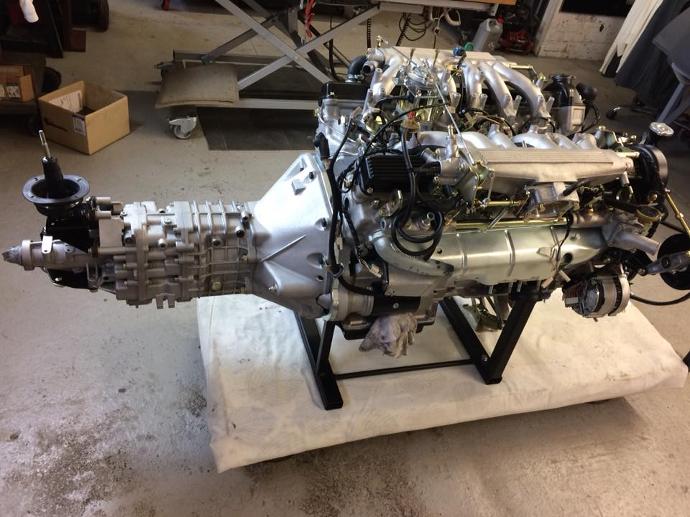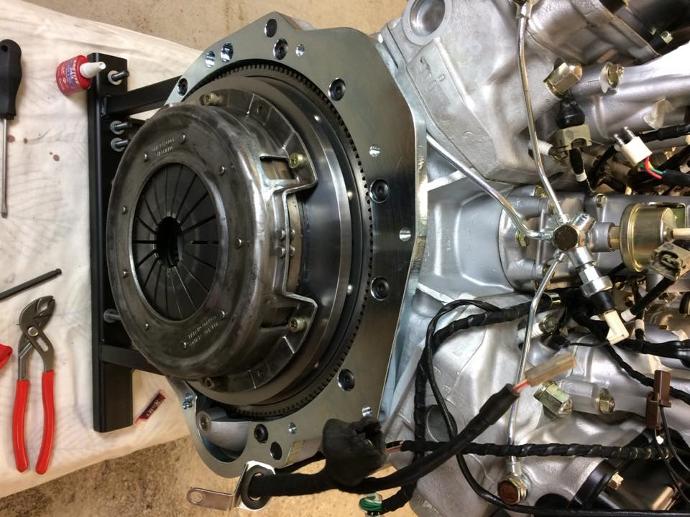 Tremec TKX conversion
This conversion has been under development for the last few years since the TKX was launched by Tremec. This is an all new conversion that has been developed off the back of our extensive knowledge and history of Getrag conversions. Our focus was to offer a complete install package using an new gearbox. These are the new design, although the older Tremec T5 has been hugely successful and used for many applications it wouldn't take the power of the V12. The TKO being the only one suitable it is a very cumbersome and difficult gearbox. The TKX is a new platform taking the power of the TKO with the feel of the T5. The feedback has been great and this is really a great gearbox for a Jaguar V12.
We put the TKX on the back of the V12 using an aluminium bellhousing. This is cast and machined here in the UK. We kept many of the original V12 like features so for anyone installing one of these it retains some of the original Jaguar look. We have had a new flywheel made with a ring gear machined into it. Overall the package is top quality and fit the XJ and XJS very well. This project was completed in the summer of 2023, we are releasing it slowly. We still have some small areas of development to do but its probably the most complete V12 conversion you can currently buy.
The kit comprises of New Tremec TKX gearbox, Castaluminium bell housing, internal bell housing clutch fork and pivot ball, 3 piece clutch kit, external slave kit with bracketry and rods, flywheel, sealed spigot bearing (for early and late cranks), gearbox mount kit, selector rod, gear knob, propshaft, tunnel cover, rubber gator, internal ski slope, leather gator, manual pedal box, clutch master cylinder and clutch hydraulic pipe work.
The complete kit can be totally tailored for your needs. We have tried to cater best for our XJS customers and XJ12. This gearbox conversion can be fitted to any XJS V12 and XJ12 (series 1, 2 and 3) including XJ40 and X300 V12 is possible. We have also installed this in an E-type which was tight but worked with the correct tail mount. If you have a non Jaguar related car but with a Jaguar V12 engine we can also help.
There are options for ratios on this gearbox so we are able to tailor one to your requirements and differential ratio. The gearbox has options for an electronic speedo pickup as well as a mechanical speedo output.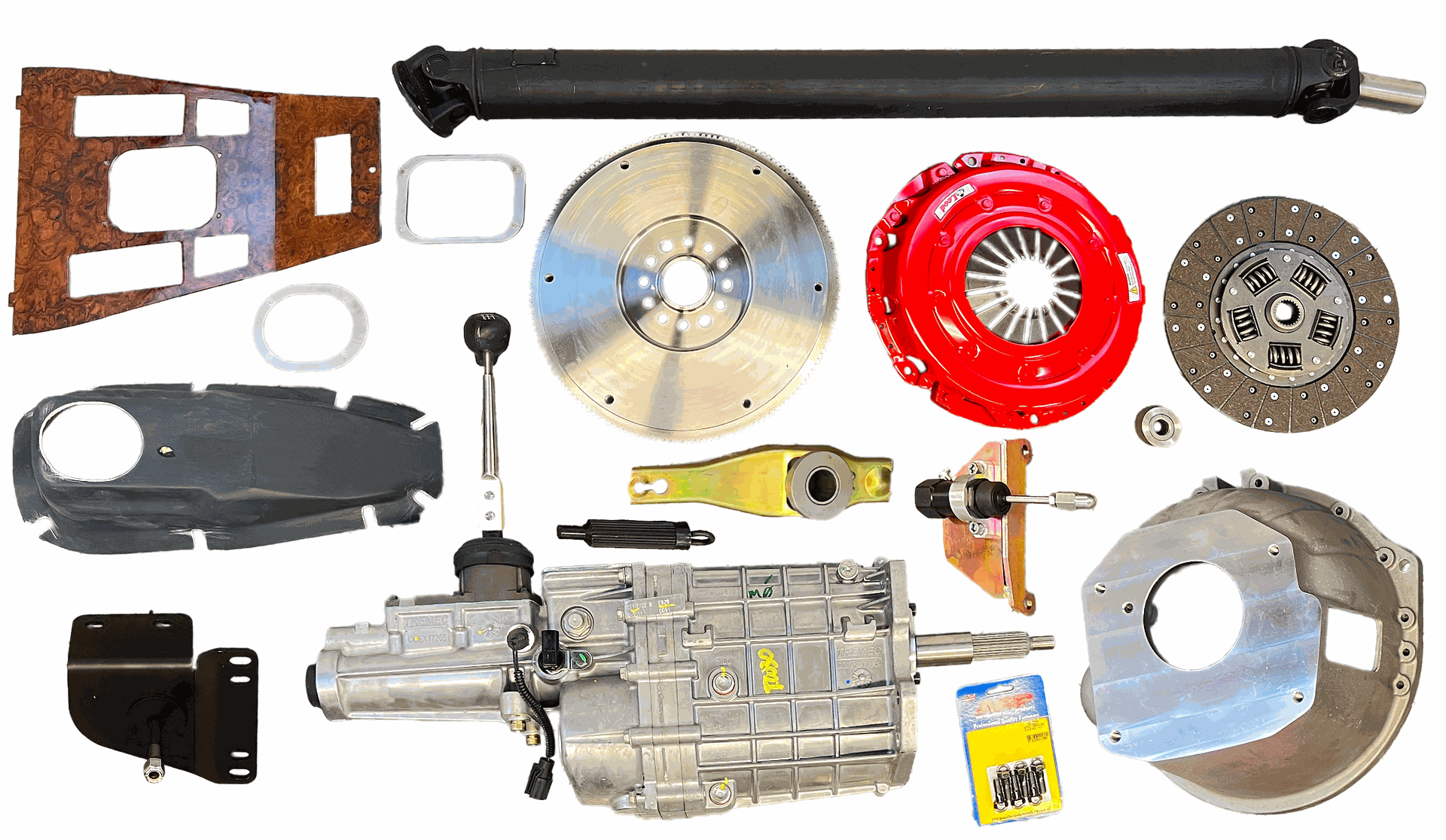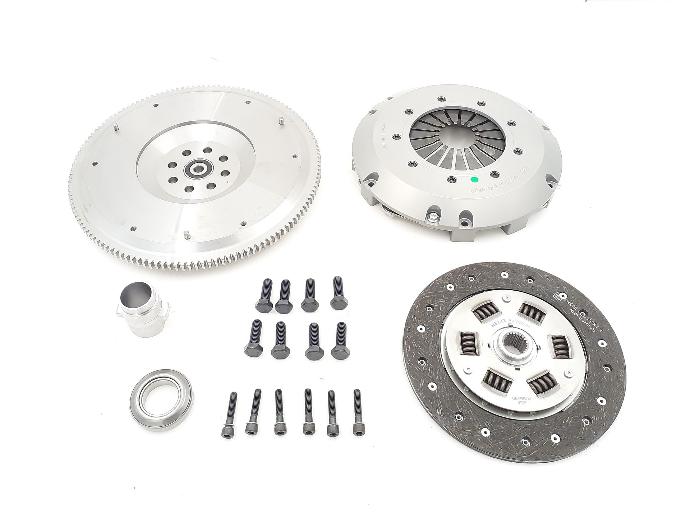 Clutch and flywheel development

Over the last 20 years we have had to change our clutch kits for various reasons. The Jaguar is a heavy powerful car which often demands a lot from a clutch. We have had challenges with suppliers like AP's exit of production of their classic range in 2016 and lesser quality Chinese clutched flooding the market. These days after a lot of development we feel our clutches are better than ever.